New releases, historic recipes, history event alerts, giveaways, and more!

Four Christmas Novellas by your favorite authors of American Historical Romance including…
Christmas at Mount Holly by Donna Thorland
The Jerseys, December 23rd, 1776 – The American Revolution is on the brink of total collapse. The Rebels have lost New York, the Continental Army has endured a disastrous retreat through New Jersey, and Washington is about to lose what remains when enlistments expire on New Year's Eve. The cause needs a miracle, but Christmas is a time for wonders: as Angela Ferrers—the woman known to history as the Widow of Mount Holly—will discover when she sets a honey trap for Hessian Colonel Count Carl Emil Urich von Donop, only to find herself ensnared in mutual attraction.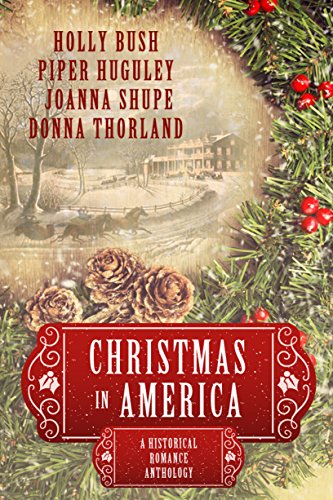 "Authentic detail, amazing characters, and a dazzlingly broad sweep of action make this a richly romantic adventure that's hard to put down. Truly brilliant. Prepare to be blown away." –New York Times Bestselling Author Susanna Kearsley  
"Fabulous…A world of spies, suspense, skullduggery, and sex.  You won't want to stop reading." –New York Times Bestselling Author William Martin  
"Cool & sexy." –New York Times Bestselling Author Meg Cabot  
"A stay-up-all-night, swashbuckling, breath-holding adventure of a novel…An extraordinary book about an extraordinary heroine." –Lauren Willig, National Bestselling Author of the Pink Carnation series  
"A fast paced, soundly researched historical intrigue, with vivid characters and sharp writing, The Rebel Pirate is a compelling read." –New York Times Bestselling Author Madeline Hunter   
"…totally captivating." –Alex Myers, author Revolutionary    
"…richly vibrant and utterly believable… If you're a reader who enjoys immersion in another place and time, or if you're simply looking for a riveting page-turner, you can't miss with The Rebel Pirate." –Amy Belding Brown, author of Mr. Emerson's Wife and Flight of the Sparrow  
"…smuggling, suspense, rebellion, and too many wonderful swashbuckling moments to count." –RT Book Reviews  
"A compelling world filled with fascinating characters." –Corey May, Writer of Assassin's Creed III  
"…a sinful page turner…Thorland's believable dialogue steals each scene." –New Jersey Monthly  
"A combination of historical espionage and smoldering romance, Thorland's first novel is a surprising and engrossing tale. Immersing the reader in 1777 Philadelphia, sweeping from decadent high-society balls to the filth of battlefield infirmaries…a thrilling read." –Booklist  
"The Turncoat is an exhilarating, intelligent, and superbly intricate spy thriller that keeps its tension vibrating and surprises crackling until the very last page." –RT Book Reviews